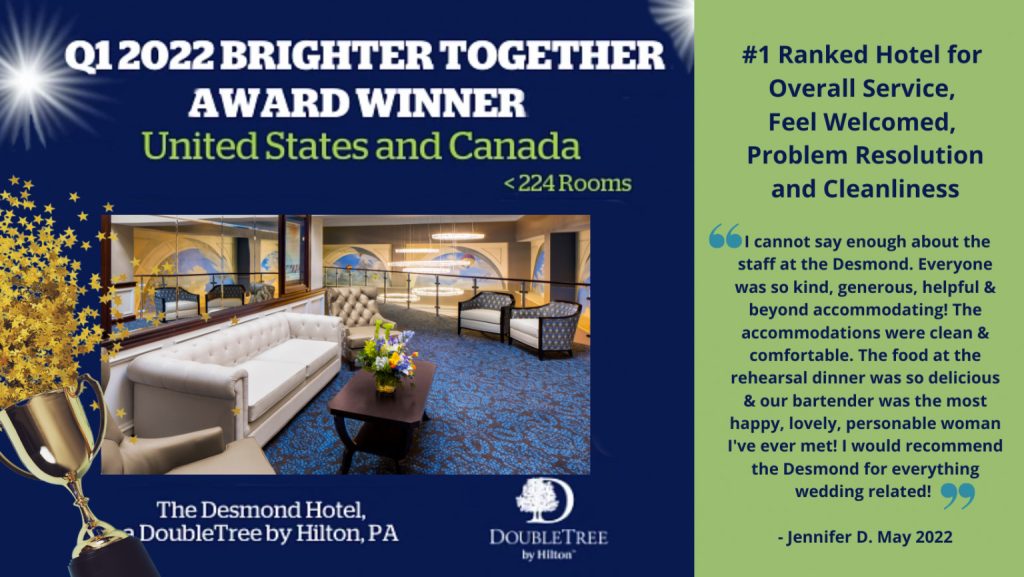 HOTEL RECEIVES TOP HONORS FOR THE 2ND TIME FOR GUEST SATISFACTION SCORES
DoubleTree by Hilton Brand Recognizes Hotel for Highest Guest Satisfaction Scores in the U.S. and Canada. The Desmond Malvern, a DoubleTree by Hilton earned its way to the #1 Spot once again!
MALVERN, PA (June 6, 2022) – The Desmond Malvern, a DoubleTree by Hilton has been recognized with the regions quarterly (Q1 2022) Brighter Together Care Award. The award is given to the hotel that achieves the highest DoubleTree by Hilton SALT (Satisfaction and Loyalty Tracking) score from the following metrics within the respective quarter and region U.S. and Canada.
Overall Service
Problem Resolution
Feel Welcomed
Cleanliness of Guestroom
"Congratulations to the first quarter's Brighter Together Care Award. Their performance is proof that when you CARE, it shows," said Shawn McAteer, global brand head of DoubleTree by Hilton.
"Consistency and resiliency of our staff is revealed once again through this award. Each and every one of our staff, through their genuine kindness, will go above and beyond to make certain that our guests have an enjoyable experience — the symbol of our unique brand. I am so proud of our team", said Michael Chain, general manager, The Desmond Malvern a DoubleTree by Hilton.
Additional Awards:
2021 DoubleTree by Hilton Pride Award (Recognition of top hotels ranked 2nd – 6th in USA + Canada)
Q3 2021: DoubleTree by Hilton Care Strong Award (#1 in USA + Canada)
2022/2021 Best of Weddings – The Knot
2022/2021 Couple's Choice – Wedding Wire
2022/2021 Trip Advisor – Traveler's Choice Certificate of Excellence
2021 Main Line Today Magazine – Best Hotel
Previous Years: Open Table Best Brunch, Open Table Diner's Choice, Main Line Today Best Hotel Restaurant, Brandywine Health Battle of the Berries Best Dessert, Kennett Square Mushroom Festival Best Mushroom Soup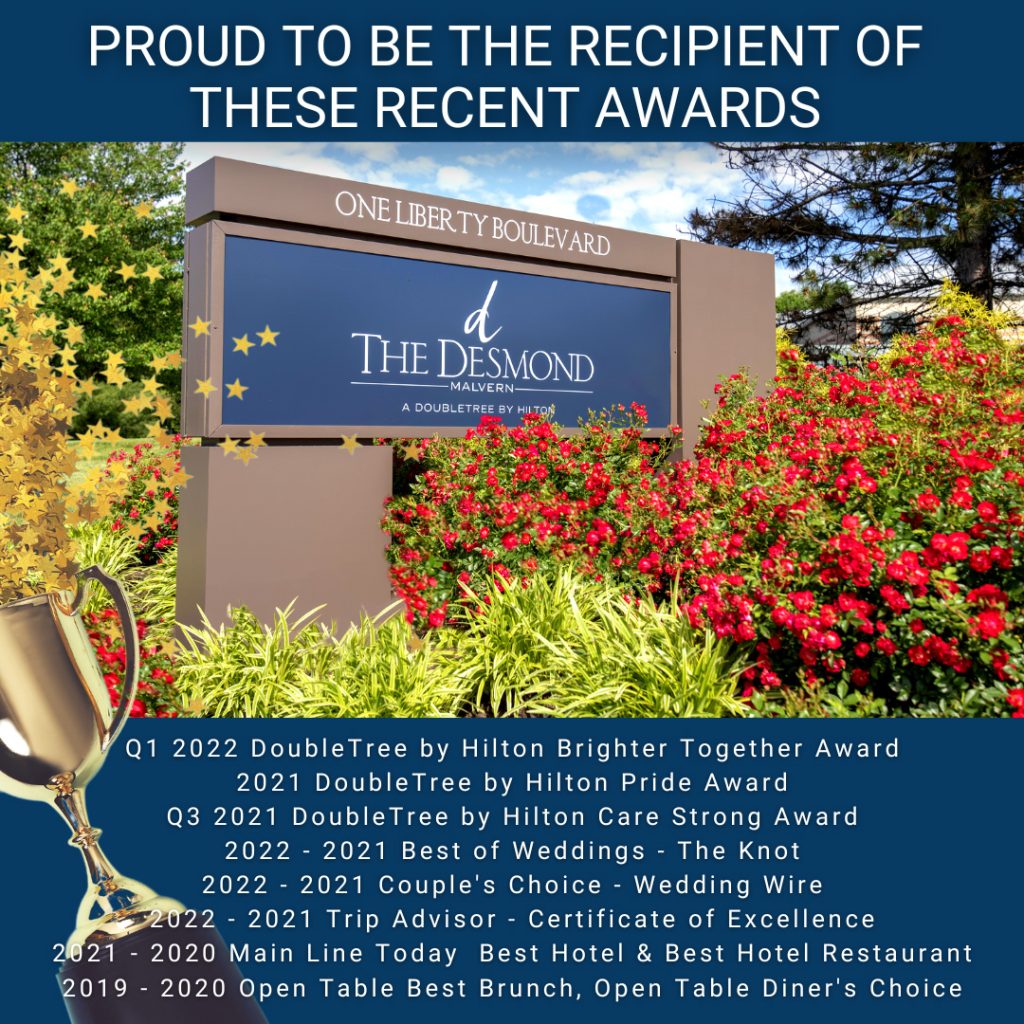 The Desmond Malvern, a DoubleTree by Hilton is part of Hilton Honors®, the award-winning guest loyalty program for Hilton's 18 world-class brands. Hilton Honors members who book directly through preferred Hilton channels have access to instant benefits, including a flexible payment slider that allows members to choose nearly any combination of Points and money to book a stay, an exclusive member discount that can't be found anywhere else and free standard WiFi. Members also have access to contactless technology exclusively through the industry-leading Hilton Honors mobile app, where Hilton Honors members can check-in, choose their room and access their room using Digital Key.
About The Desmond Malvern, a DoubleTree by Hilton
For over 25 years, The Desmond Malvern has earned a reputation for superior hospitality and comfort featuring 194 non-smoking guest rooms and suites with modern amenities. Situated on beautiful grounds, this luxurious property is a part of the highly regarded Hilton Hotels offering five dining options including a late night pub, room service and outdoor dining. Providing scenic walking trails, onsite basketball & tennis plus indoor fitness center and swimming pool, The Desmond is the perfect setting for an overnight stay or any occasion. Together with award winning restaurants & a creative Chef, they have become a local's favorite spot for a night out, a delicious meal or special celebration!
Contact Follow: Facebook, Twitter, Instagram
About DoubleTree by Hilton
DoubleTree by Hilton is a fast-growing, global portfolio of more than 615 hotels with more than 142,000 rooms across 50 countries and territories. For more than 50 years, DoubleTree by Hilton has continued to be a symbol of comfort for business and leisure travelers around the world, from welcoming guests with its signature warm DoubleTree chocolate chip cookie, to serving the local community. DoubleTree by Hilton offers contemporary accommodations and amenities, including unique food and beverage experiences, state-of-the-art fitness offerings and meetings and events spaces. Experience a positive stay at DoubleTree by Hilton by booking at doubletree.com or through the industry-leading Hilton Honors app. Hilton Honors members who book directly through preferred Hilton channels have access to instant benefits.
Learn more about DoubleTree by Hilton at newsroom.hilton.com/doubletree, and follow the brand on Facebook, Twitter and Instagram.