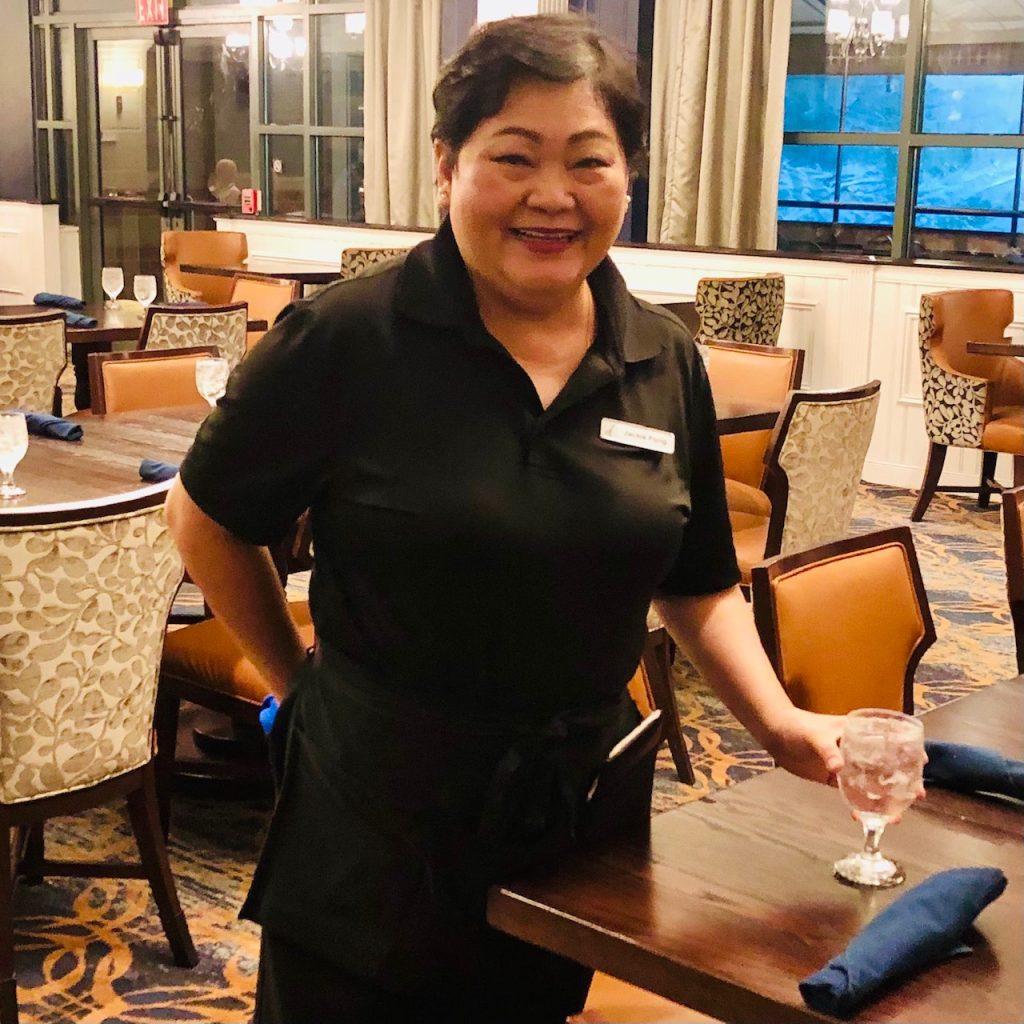 I sat down with Jackie. I thought about how to describe her. Superstar? Extraordinary? Magnificent? This is not easy….How to convey the qualities of Jackie, a restaurant server for over 23 years at The Desmond Malvern, a DoubleTree by Hilton.
What adjective could possible describe all that she is?
To begin with, here are just a few (of many) customer's written praises from their 'who rocked it' comment cards displayed throughout the hotel – "simply terrific" – "force of nature"- "pleasant & perky" – "real treasure" – "delightful" – "deserves 5 stars" – "efficient with smiles & good humor".
When I read these to Jackie – she just smiled. She told me that this is what keeps her content at her place of employment after all these years…the guests. And these people are very special.
She brought out 2 large pieces of paper which displayed 92 hand written names that she keeps with her. Who are these people I asked? Customers. Good customers. Her customers. WOW. Amazed, I asked her if all these people request her as their server when they dine at The Desmond. Yes, yes they do, she said. Some even call her on her personal cell phone and ask her schedule for the week. For good reason. Jackie will remember your name and she'll remember your drink plus she'll remember your favorite dish as well!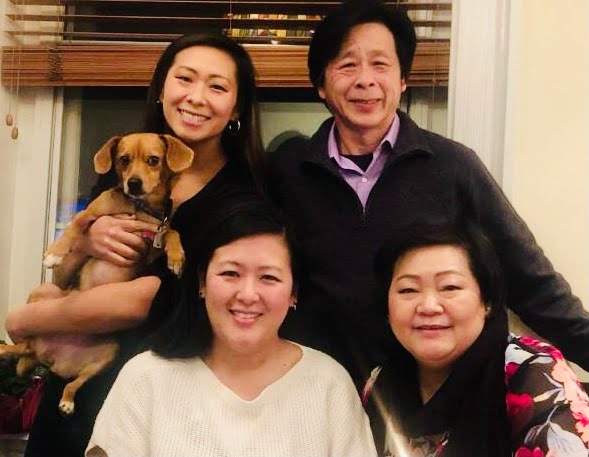 Jackie was born in Vietnam. She feels very fortunate to have traveled from China to the US at 16 years old, with her whole family, and with the help of her church. She is very grateful. She didn't speak any English when she arrived, but learned the language through the help of her school and the church. She speaks 4 languages now!
Her favorite hobby? Cooking. She just loves to spend time by the stove! Her culinary mastery was obtained from her Mom, Dad and Grandmother who were also in the hospitality industry. Like a sponge, Jackie soaked up every bit of culinary knowledge from them.
The hardest part of her job? The commute. Jackie lives in New Jersey! For over 23 years, she's driven back and forth to The Desmond. 1 hour in the morning and the travel home is longer. The drive doesn't bother her and this is why, she says, "If you love your work, you don't work a day in your life".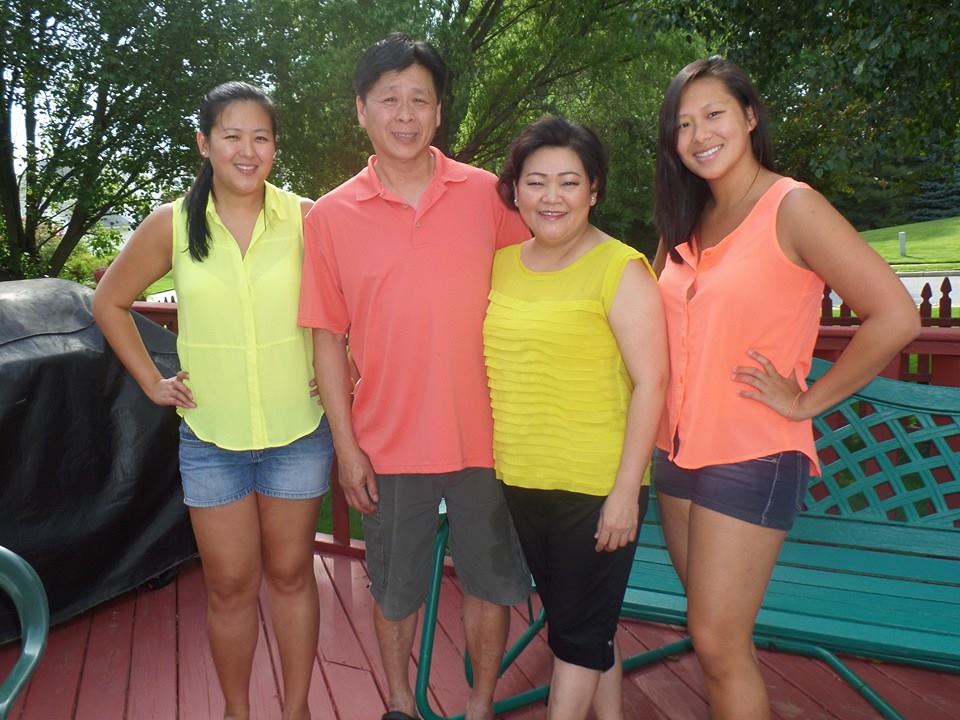 Jackie has so many great Desmond memories… fussing over Mr. Desmond & his frequent dining visits … a hectic week long stay during a very bad blizzard …the senior citizens bus pulling in at midnight with all eyes on decaf…and the panic that set in after spilling lemonade on the Executive Chef's wife to name just a few. Her funniest memory? She shared many laughs with her customers in her early days because of her broken English, customers used to think she was saying "crap cake" (crab cake) and "all-rotten potatoes" (au gratin potatoes)!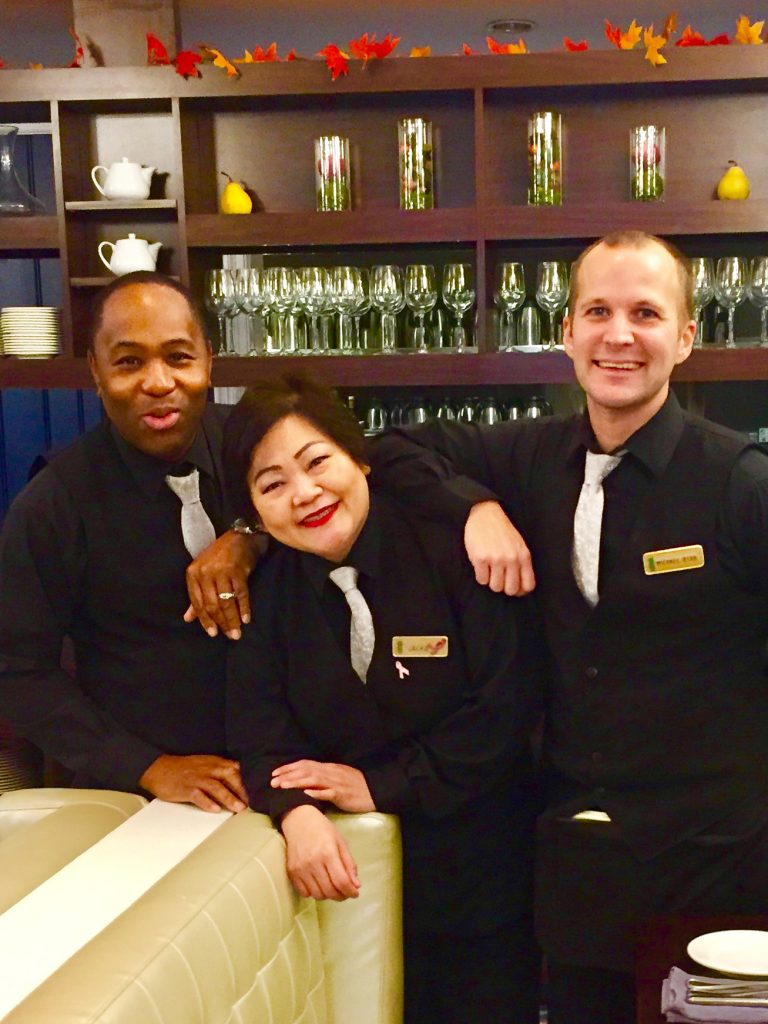 Although she is no longer working triple shifts, 7 days a week, like she used to, Jackie says that she will stay and work at The Desmond as long as she can – into her senior years, even if that means serving customers on a walker! Everyone makes her feel so special including her peers and the management team. Her co-workers, now good friends, have amazing tenures themselves: Ann Marie, 17 + years, Carman – 15 yrs – Michael 16+ yrs. and Colin 30 yrs. They are her 2nd family. The Desmond truly is her home.
To say Jackie is "good with people" is an understatement. When she first approaches your table, you will feel like you've just reacquainted with a long lost friend. As one guest wrote, "Jackie brightened our day! She should have her own TV show to bring happiness to others!".
What do you say WCAU?